Unveiled at the Headwaters Horse Country Excellence Awards Gala, in May 2016, and at home at the Headwaters Tourism Office in Mono.
If you live in the Headwaters Region, and would like a one of a kind horse of your own, please contact Headwaters Horse Country for more information – headwatershorsecountry.ca.  I am ready for Statue Number 3!!
Seriously wonderful experience, painting a 6′ Horse for the Toronto 2015 Pan/Para AM Games through HEADWATERS HORSE COUNTRY.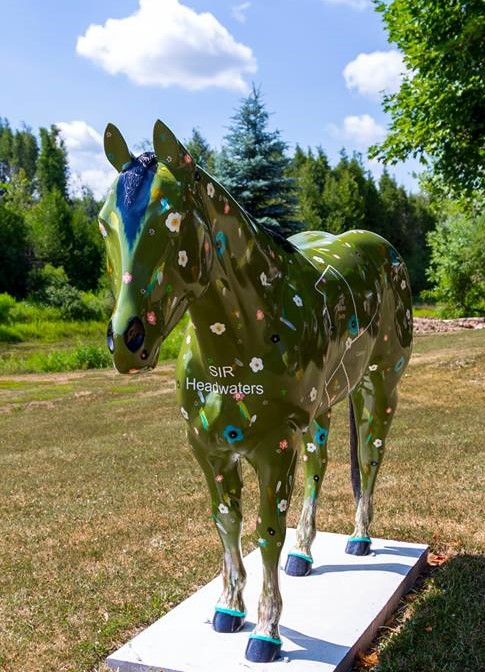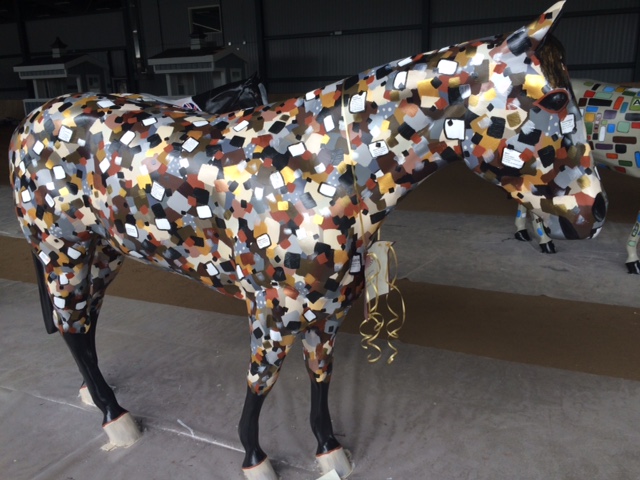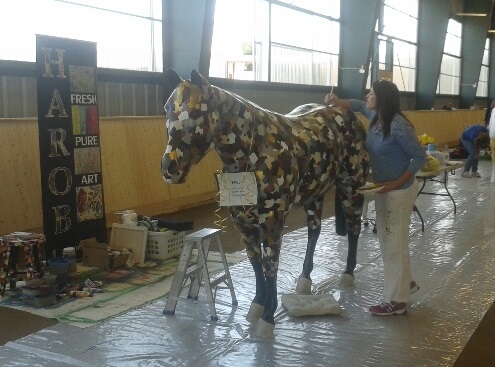 SIR HEADWATERS –  A true honor bestowed upon me this year was to paint Sir Headwaters, my second Parade of Horses statue, live at the Can-Am All Breeds Quine Expo in April.  He was unveiled at the Headwaters Horse Country Excellence Awards Gala in May and now resides at the Headwaters Tourism Office in Mono.
Sir Headwaters represents a gentle lord and pastoral keeper of Headwaters Region. He offers a courteous, watchful, and proud eye over all of the equine beauties of Headwaters and beyond, and also a sentiment of peace, calm, and classic self-assured timeliness.  Light. Airy.  Sunshine-y.  Like a smile you will never forget.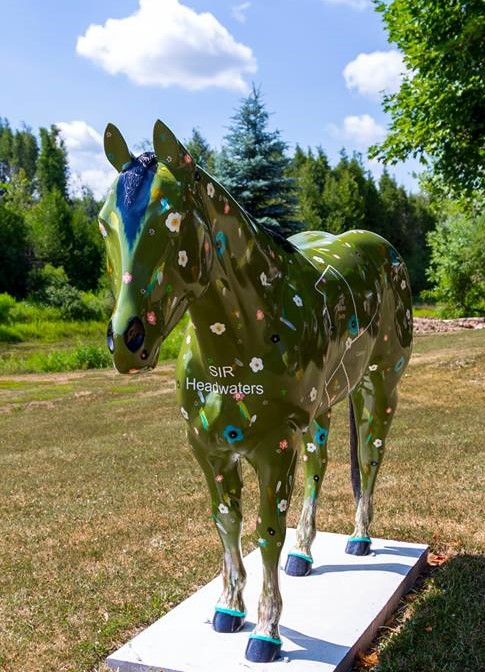 MISSY – Promoting equine excellence within the Headwaters Region and the Pan American Games is my primary inspiration, as well as genuine honor. As an abstract artist, I always stay true to my heart. I fill my art with emotive expression, make it fun, and give it all I have!
At first glance Missy is self-assured. She is bold and strong; thunderous perhaps. As she draws you in, she reveals that she is more complex and intricate in nature than first thought, and she divulges her horse-loving prose as tiny treasures offered to those who come near enough to know more.
Visually, Missy's rich colours are inspired by, and embody, those found in our equine beauties. And, with artistic freedom, gold, silver and bronze are used as a refined nod to the thrilling 2015 Pan Am Games! Gold reigns on Missy because she is a straight-up winning horse!!