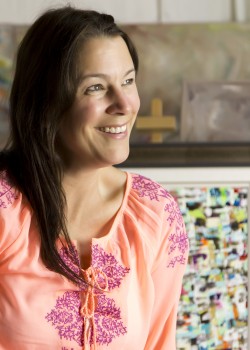 BIO
Canadian artist, DEBORAH JOLLY uses alla-prima techniques, intense colour, and existential philosophies to create high-energy abstract artworks in oil and acrylic. Using fingers, palette knives, and the occasional brush, JOLLY denies structure and deliberation to expose texture and movement as her signature. A relentless creator, JOLLY embraces her instinctive, frenetic process, knowing that time is never truly on her side.
JOLLY's works are held in Private Collections in Montreal, Toronto, Vancouver, Glasgow, New York, and Tokyo, as well as Commercial Collection, held in Montreal.
STATEMENT
I am addicted to the allure of creative climax and repeatedly charmed by artistic union.  Connections are my motivation, with each work revealing an emotive impact with someone or something, and all compositions based on a foundation of light.  These moments-in-time are released in a colour-drenched riot on my canvas, offering a tangible celebration of truth and acceptance, causing some to cry, and others to make me cry – happy tears and new connections made. It is unexpected and heart-filling that my expression of connections nurtures new connections.  I want to paint them all before time stands still.  OCD?  Maybe.  Drip.  Pour.  Scrape.  Push.